Wate Removal is the First Step in Drying Out Your Business
5/3/2023 (Permalink)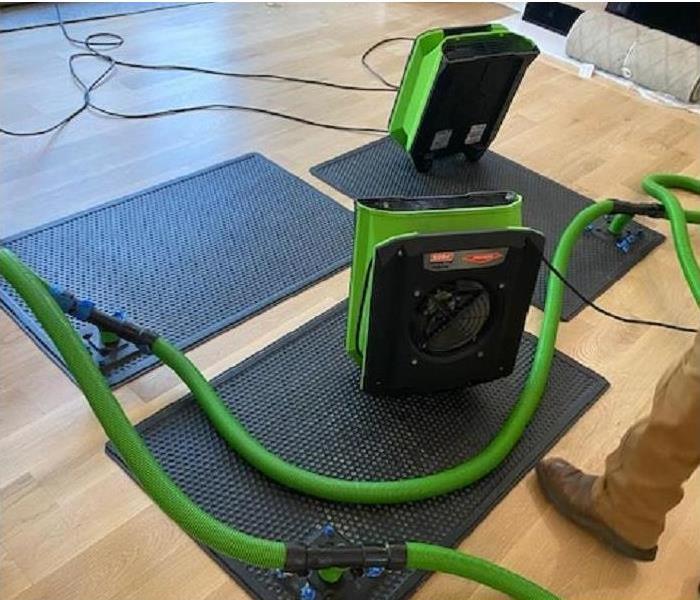 SERVPRO manages all types of devices for water removal from commercial properties--like this injecti-dry system. We prevented demolition.
SERVPRO works with area business owners after disasters happen. These situations can start with leaks, backed-up drains, or a broken sprinkler system. The complete restoration of a business requires water removal first.
To protect your business, water professionals must start the process as soon as possible. Otherwise, the damage caused by water spreading continues to worsen. We use the most efficient and powerful equipment possible to do our tasks.
Because we continue the water extraction process until we get the interior of your business dry again, our pump trucks' large hoses are not the only things we use. Our customers also see different portable water extraction units, such as:
Hand-held devices, portable wet vacs
Weighted devices, riding (Rovers) machines
A floor-mat system.
One type of device is so small it can fit into places that can hold large amounts of water that was forced into small spaces. Once in, this bonded water is no longer under the pressure that forced it into whichever area it now occupies. The small tubes on these injecti-dry system does the job.
Using weighted devices to pull clean water out of your carpeting and the underlying padding can reduce restoration costs by saving the carpet and reducing what needs replacing. These work by forcing the water out and into the device. We might use a small-sized device called the Claw or riding units for larger areas and hallways.
Wood floors are beautiful, but they also require a substantial investment. To rescue these from destruction, we use our Injecti-Dry system. It removes moisture from underneath the floorboards and can also force warm, dry air into enclosed spaces, including the interior cavities of walls or underneath cabinets and stairwells.
We're Faster To Any Size Disaster. Call SERVPRO Team Lutz at 215.368.4110 for the professional water removal services you need.